We can either meet these grand challenges headlong in a proactive way, or we will fail to plan and end up on the back foot, with tragic results.
The year 2020 has shown us how urgently humanity needs to change course. Catastrophic wildfires, sea level rise and coastal storm surges, accelerating human climate migration, and economic and policy changes all pose grave risks, not only to society, ecosystems, and species. But they also present opportunities for humanity to rethink the way we approach our society, economy and natural world.
We can either meet these grand challenges headlong in a proactive way, or we will fail to plan and end up on the back foot, with tragic results.
We at CBI are internationally respected for our extensive and impactful scientific work on wildfire in natural and human-dominated landscapes – with a rich body of analytical and planning tools, models, scenarios, reports, publications, webinars, and other resources. We're also now rapidly expanding our skills and projects to other powerful dimensions of climate risk and resilience in ecosystems, species populations, and human communities.
Human climate migration and managed coastal retreat
Increasingly, CBI has joined forces with collaborators in the emergency preparedness, disaster risk and resilience, policy reform and engineering communities – applying our tools, skills and policy expertise to the rapidly increasing challenges of human climate migration and managed coastal retreat.
Communities around the world can be sources or sinks of climate migrants, and sometimes both. We've seen larger numbers than ever in 2020, even within the USA – with increasingly severe wildfires, smoke, and hurricanes, all within the stress and restrictions of a global pandemic. 'Receiving communities' need considerable help in planning to absorb these migrants into housing, jobs and services, without undue impacts on ecosystems and natural resources.
And one of the most certain aspects of climate change is the inevitable sea level rise it is bringing. Helping prepare not only in the short-term, but more significantly, the long-term of relocation of communities, infrastructure and services will be an enormous and potentially conflict-ridden task, and one that CBI is uniquely positioned, with our least-conflict collaborative platforms like Data Basin, to help shape transparently and efficiently.
This year, we've been developing relationships and partnerships in these fields with analysts at the American Society of Adaptation Professionals, University of Washington's Climate Impacts Group, The William D. Ruckelshaus Center, and a host of other nonprofits, consultancies, agencies and tribal authorities at federal, state, county and local levels to drive positive planning for these immense challenges.
We're also working with federal agencies such as NOAA and building multi-stakeholder dialogues with climate-risk investment specialists and organizations to build a steady pipeline to support not only the analyses of needed action, but also implementation of the work by local and state authorities.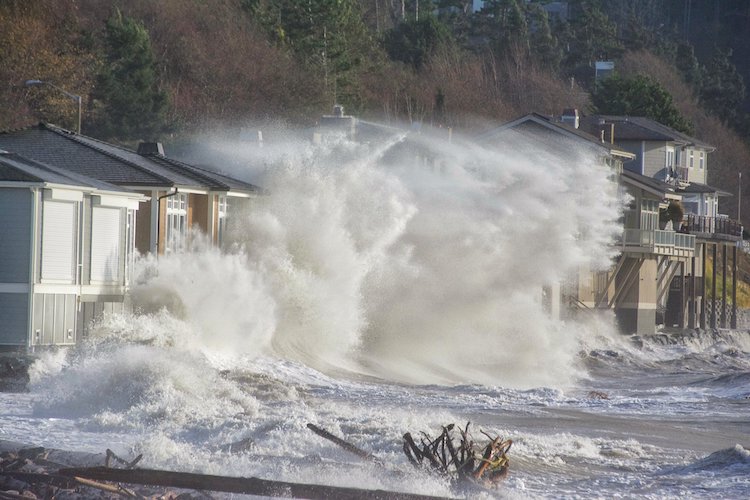 Photo by: Marlene Bocast
Resilient economic recovery from the COVID-19 pandemic
Central to our resilience as a species is our capacity to learn from past mistakes. A groundbreaking analysis launched in July by the national carbon policy research institute ClimateXChange and the Seattle-based Low-Carbon Prosperity Institute showed how economic recovery could be dramatically accelerated by investing in activities and sectors such as forest ecosystem restoration and clean transport, which simultaneously bring multiple policy benefits for jobs, human health, and carbon reduction. For example, an investment portfolio of resilient, nature- and clean-energy-based economic activities can deliver 10.1 full-time equivalent job-years per million dollars invested, versus 7.4 jobs for the Washington State economy overall, and 4.2 for the state's ten biggest employers (including giants such as Boeing, Amazon and Microsoft).
CBI is working with the LCPI-CXC team to strengthen and downscale these parameters to county, legislative district and local levels, so that mayors, county commissioners and state legislators have ecosystem-based and clean-energy recovery options for their areas which simultaneously improve human health, wellbeing and our ability to meet decarbonization goals. Our team will be applying these frameworks to work in other states across the USA.
It never rains, but it pours
More and more often, multiple challenges hit us at once, overwhelming agencies' and communities' capacity to respond. CBI's Science Leadership Team has reconsidered its analytical and planning toolboxes for these "triple-whammy" disasters and trends, and ways to adapt these to be better able to support the planning and preparedness of agencies, organizations and communities which might otherwise have their capacity overwhelmed by contending with multiple hazards at once.
And what better year has there been than 2020 to illustrate the need for such planning?