You're in good company
We collaborate with some of the world's top organizations to solve tough conservation problems
Our clientele come from diverse sectors—from all levels of government agencies to academic institutions, tribes, foundations, corporations, and nonprofits. We work with them to create customized solutions, handling everything from global assessments to site-level planning. Our clients and partners rely on us for high scientific rigor, flexibility, and professional integrity.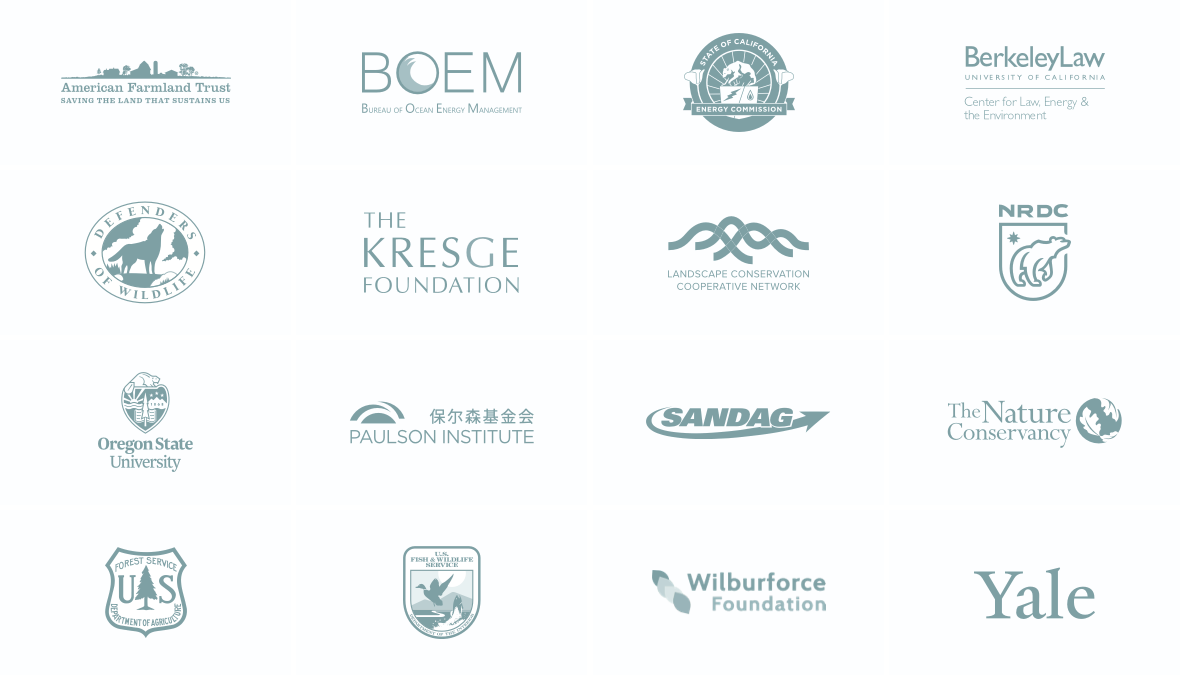 Hear from our clients + partners
What our clients say
I appreciate the CBI team's client-centered approach to the project implementation. I was impressed with their flexibility and ability to work collaboratively with us to find solutions creatively.

– Li Zhu Associate Director of Conservation, The Paulson Institute
A diverse group of collaborators
Our clients and partners
Non-profit
Albertine Rift Conservation Network (ARCOS)
American Farmland Trust
American Lands
American Museum of Natural History
Audubon Society California
Audubon Society Washington
Audubon Society — National
BirdLife International
BirdLife South Africa
Black County Land Trust
California Coastal Conservancy
California Native Plant Society
California Wilderness Coalition
Cascadia Partner Forum
Central Oregon Forest Stewardship Foundation
Center for Biological Diversity
Coalition for the Sonoran Desert
Conservation International
Conservation Northwest
Defenders of Wildlife
Denver Zoo
Deschutes Trails Coalition
Dogwood Alliance
Earth Discovery Institute
Earthjustice
Earthwatch
EcoAdapt
Endangered Habitat League
Environment Now
Forest Ethics
Global Forest Watch Canada
Global Forest Watch Russia
Heart of the Rockies Initiative
Land Trust of Santa Barbara County
National Geographic Society
National Fish and Wildlife Federation
Natural Communities Coalition
Natural Resources Defense Council
The Nature Conservancy (OR, CA, SC, OH)
Pacific Biodiversity Institute
Pacific Forest Trust
The Paulson Institute
People and Nature Partnership
Point Blue
Pro Esteros, Proforest
Pronatura
St. Louis Zoo
San Diego Land Conservancy Coalition
San Diego Natural History Museum
San Diego Zoo Global
San Dieguito River Valley Conservancy
Save-the-Redwoods League
Sierra Watch
Siskiyou Regional Education Project
Southcoast Wildlands Project
Spatial Informatics Group – Natural Assets Laboratory
The Wilderness Society Trust for Public Land
The Wildland Project
Two Countries, One Forest
Union of Concerned Scientists USA
Western Environmental Law Center
Wildlife Conservation Society
Wildlife Conservation Society Canada
WokenUp World Resources Institute
World Wildlife Fund Canada
World Wildlife Fund China
World Wildlife Fund US
Foundations
Bechtel Foundation
Brainerd Foundation
Bullitt Foundation
Canadian Boreal Initiative
Charlotte Martin Foundation
David and Lucile Packard Foundation
Doris Duke Charitable Foundation
Hewlett Foundation
International Community Foundation
Kresge Foundation
Lazar Foundation
Lyndhurst Foundation
NCASI Foundation
Paulson Institute
Resources Legacy Fund Foundation
The Moriah Fund
The Paul G. Allen Forest Protection Foundation
San Diego Foundation
Wilburforce Foundation
Companies
AECOM
Aditya Birla Group
Aspen Environmental
Cultivate LLC
Deutsche Bank
Disney
Dudek
Esri
FedEx/Kinkos
GEOS Institute
ICF International
IKEA
Innovisk (previously Sage Underwriters)
Inter-American Development Bank
International Paper
Kearns & West
KEEN Footwear
Leica Inc.
Limited Brands
Office Depot
Toronto Dominion Bank
Transmediavision USA
Victoria's Secret
Xerox
Universities and Research Institutions
Cornell Lab of Ornithology
Duke University
Evergreen State College
International Institute for Applied Systems Analysis
Oregon State University
Portland State University
San Diego State University
Stanford University — Stanford Woods Institute
Universidad Autonoma de Baja
California University of British Columbia
University of California Berkeley
University of California Davis
University of California Riverside
University of California San Diego
University of Florida
University of Idaho
University of Maryland
University of Rwanda
University of Washington
Washington State University
Western Washington University
Yale University
Government Agencies
Local
County of San Diego
City of Encinitas California
City of Anacortes Washington
City of Escondido California
City of Oceanside California
City of Orlando Florida
City of Poway California
City of San Diego California
Fresno Council of Governments
Kern County
Riverside County
San Diego Council of Governments
State
California Coastal Commission
California Department of Fish and Game
California Department of Forestry
California Department of Water Resources
California Energy Commission
California Ocean Protection Council
California Office of Planning and Research
California Strategic Growth Council
California Wildlife Conservation Board
Florida Fish & Wildlife Conservation Commission
Oregon Department of Fish and Wildlife
Oregon Department of Energy
Oregon Department of Land Conservation and Development
Riverside County Habitat Conservation Agency
Sonoma County
Sonoma Water
Washington Department of Fish and Wildlife
Washington Department of Natural Resources
Federal
IUCN
NASA
National Oceanic and Atmospheric Administration
National Science Foundation Smithsonian Institution
U.S. Air Force and Air National Guard
U.S. Bureau of Land Management
U.S. Bureau of Ocean Energy Management
U.S. Bureau of Reclamation
U.S. Department of Agriculture
U.S. Environmental Protection Agency
U.S. Fish and Wildlife Service
U.S. Forest Service
U.S. Forest Service FIA
U.S. Geological Survey
U.S. National Park Service
U.S. Navy
Ventura County