CBI has developed a web application to help planners identify areas vulnerable to water contamination exposure in the event of large-scale fires.
CBI is working in collaboration with Oregon State University, the University of Minnesota, and the University of Colorado Boulder on a project designed to help improve our understanding of post-fire community resilience. Central to the project will be the development of an RFID sensor network which will help support post-fire assessments of water infrastructure damage. These sensors will be deployed across a community's freshwater pipeline network and will transmit data (e.g., temperature reached, pipeline material, exposure duration) that will help determine whether or not toxins have started leaching from the pipes into the freshwater supply. The current phase of the project focuses on Santa Rosa and Paradise in California where the 2017 Tubbs Fire and the 2018 Camp Fire caused damage to the water distribution systems, resulting in contaminated water within the system.
To help support this effort, CBI has developed a web application called the Wildfire Vulnerability Explorer, which can be accessed at https://wildfirevulnerability.eemsonline.org. This application allows users to explore a set of spatially explicit models developed for Santa Rosa and Paradise that identify areas likely to be vulnerable to water contamination exposure following a large-scale fire event. Estimates of vulnerability are based on three primary factors: the probability of water contamination, socioeconomic sensitivity, and adaptive capacity. The Wildfire Vulnerability Explorer brings this information together in an interactive map in order to help officials with both pre-fire planning and post-fire prioritization of recovery efforts – by identifying communities that are the most vulnerable to water contamination exposure, efforts can be taken to better plan for and direct resources to those areas.
Additional information about the project is available on the OSU project page at the link below:
Sensor Technology for Improved Wildland Urban Interface (WUI) Fire Resilience
Funding for the project was provided by the Alfred P. Sloan Foundation.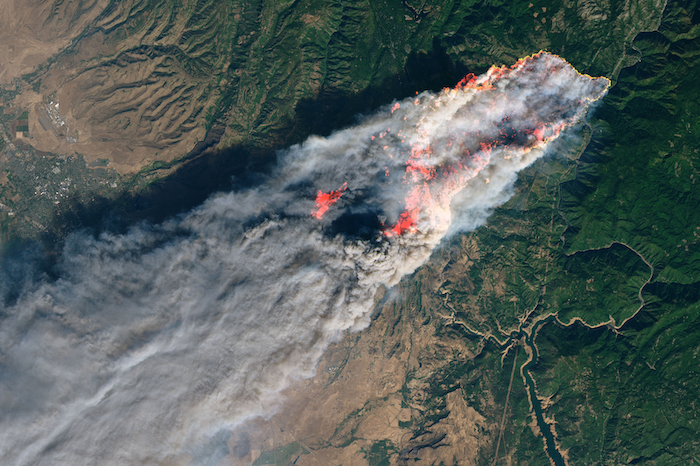 Photo courtesy of NASA (https://earthobservatory.nasa.gov/images/144225/camp-fire-rages-in-california): Camp Fire in Paradise, California, which is one of the project study areas.